John Grosse is an enthusiast photographer who has made Street Photography in India his lifes passion. In John's words India is Incredible,Uninique and unlike any other destination. John's work is a magnificent reflection of the many vibrant and diverse faces of India.
John's  interest in photography started as casual and intermittent, using a Voightlander Vito 35 mm film camera given to him by his parents as a 1948 Christmas present . At the age of 50 John bought an Olympus OM10 SLR on the strength of a forthcoming tour of Western Europe with a group of architects. On his return his friend and architect colleague Garth Robertson invited him to join the Port Elizabeth Camera Club and later, to use his darkroom where he introduced John to the magic of colour printing. He was hooked!
Competing in the print section of the PECC he rose to Honours level, and as a member of PSSA achieved FPSSA(Colour Prints). The digital era brought a new challenge resulting in a FPSSA(Vers).
John and his wife Madge  have been privileged to travel quite extensively, including to Eastern Europe, the Middle and Far East. In 1984 they joined an Insight Tour to the East which included a week in India. Incredible India. Since then he has returned to India 14 times over the past 30 years!
Here is John's experience of India;
Why India?
 Incredible India is unique, unlike any other destination in my travel experience, so photogenic it is a photographers dream.
The sub-continent is huge, with great variations between regions, each having   unique topography, climate, history, culture, built environment and people. Exciting image possibilities abound, as does vibrant colour.
The country is geared up to put itself on display and accommodate the diverse needs of any traveler.
My photographic interest has evolved into recording images of the handsome, friendly people of the older parts of the cities and villages, and their heritage buildings, monuments and bazaars. Some of the images accompany this blog.
Where and when to go
 The more research one does, the more successful ones trip will be. We used Lonely Planet guides and tour brochures at first, but today we have the internet. Reading the Raj Quartet and watching The Marigold Hotel movie will give an idea of what to expect.
For a first visit and in view of the vast number of options available, one should consider selecting a single region to explore. This will economize on travel time and expense. Rajasthan would be my first choice.
Go when it is cool and dry. For Rajastan that would be October to March (peak season). September would be less expensive and since this is a desert state you could miss the end of the monsoon rains.
How to travel
Typical tourist itineraries are available from RSA travel agents. Group tours may suit inexperienced travelers but will provide limited photo opportunities.
Our most successful visits have been arranged by Services International Ltd. New Delhi. Their website india-travelpackages.com is user friendly, loaded with information and options, and they will provide quotes promptly for standard or tailored packages.
The services we have used have included a driver with air conditioned car for 2 passengers, standard packages with minor modifications, and superior hotels
(B & B), heritage properties where possible (old palaces, forts and the like).We have not required the provision of guides, nor pre-payment for access to monuments.
Suggestions
 Remember that you are a guest in a foreign land.
Be as inconspicuous as possible (difficult with a pale skin and laden with cameras).
Ask permission before photographing people (a smile and mime will do). Back off if they object).
Work quickly when taking a portrait, before a crowd gathers to embarrass the model. Do not pay the model unless circumstances make this appropriate.
Most models pose with a serious facial expression. I believe the Hindi word for "smile" is something like "haso".
English is spoken generally as a second language.
My gear
Canon EOS 5 / 35-70m Film Camera (retired)
Canon 20D / 28-135mm EF IS
Nikon P7800 (Having given up carrying heavy camera gear, this small camera caters for most of my needs)
Here are my some of my favourite memories of India;
Bath (Khajuraho)
Few Indians enjoy the privilege of private bathing facilities.
(In order to simplify the composition I cloned out the boy's Mother who was in the water. This is not an image for a photojournalism competition)
Splash (Khajuraho)
 Without motor drive, several images were taken to record this action, the bather being unaware of my presence
 Our baby
We came upon this moving family scene out in the country at the roadside home of a dhurrie carpet weaver.
The soft pink of the young mother's sari sets the joyous mood.
Dhobi wallah (Mumbai)
I believe that this landmark open air laundry has been closed. Originally the washing was done manually by dhobi wallahs (laundry men) who lived in shanties on site, and fetched and carried bundled laundry on porter's barrows. The workers were reputed to be illiterate, but had a marking system which insured the identity and safe return of all belongings handled.
Trader (Mumbai)
 It takes courage and (cheek) for a foreign traveler to ask a local stranger to pose for a portrait, and I am always pleased to receive a positive response to my request. I am not surprised when the model has to be encouraged to smile.
Do not be reluctant when young Indians ask you to join them (as an unusual member) in a group photograph.
Prep (Jaiselmer)
On the street (Mumbai)
 This image was made at Mumbai's Apollo Bunder, location of The Gateway of India, the triumphal arch erected to commemorate the visit of King George V in 2011. In the adjacent waters of the Arabian Sea are colourful ferries to Elephanta Island, and nearby is the world famous Taj Palace hotel.
Indians are enthusiastic visitors to public spaces and tourist attractions in their own country so expect crowds. Where payment for access is required of foreigners, it is usually free or minimal for locals.
The adult pictured here seemed happy to be photographed, but ten minutes after my departure he appeared at my side, without child, asking for payment (the child was not necessarily his). We are told that many of these street dwellers prefer the freedom of that life of begging to the restrictions of a more regulated environment.
Homework

Food Street  (Karauli)
 Freshly cooked street food is usually safe to eat, but likely to be "spicey".
If offered an option specify "not too spicey".
"Delhi belly" used to be an occupational hazard, for which we have found the best cure to be "Kantrexil" which requires a script. Avoid the obvious eating risks.
Hberdasher
A fairly slow shutter speed shows movement in the folding of this shop keeper's wares after departure of a customer.
Most street photography requires a hand held camera with the attendant constraints involved. Image stabilasation and rapid adjustment of ISO available in digital cameras helps deal with some difficulties.
Bus stop (Fatehpur)
A covered sidewalk bus shelter in a village street.
 One could write a novel about the thoughts in the minds of each of these people.
Buy one (Mysore)
Either a natural talent or this white haired lady had been photographed before. When I crouched down (with difficulty _ age) to photograph, she struck this delightful pose. I'm sure she knew that I wasn't a customer.
Mysore is well known for its luxurious silk fabrics and fragrant sandalwood soap.
Neighbour 2 (Aurangabad)
 This seller in a street market smiled shyly at a neighbouring colleague while I tried to sort out an image.
News (Bundi)
This village street side doorstep must be the local "club". The next image was taken a few years later at the same spot.
Bundi is a charming "medieval" walled village built in a valley, and overlooked by a fortified palace.
SMS (Bundi}
Mobile phones, an international pandemic!
News 2 (Ajmer)
The shopkeeper's colourful headgear and character full face caught my attention, and his concentration on the news paper added interest.
Be prepared to point and shoot, before the moment has passed or your presence has been noticed.
Many shop fronts are open to the street, sidewalk or market, making a wealth of picture material readily accessible to the photographer. Of course one has to cope with the matter of crowds of shoppers.
Stringer
Maker of colourful thread bracelet braid, worn by all ages, sometimes as a sign of group allegiance.
With a population of over one billion, self employment and micro business enterprise are common features of Indian society, as are extended families of three generations living together.
Whitehead (Pushkar)
This one legged man sat on the ground against a street boundary wall, near the Lake Palace Hotel in Pushkar. He did not beg for alms, but always smiled in acknowledgement of a greeting, and touched his heart in thanks for any contribution.
We missed him on our last visit, and on enquiry were told that he had passed away.
Pushkar is a holy pilgrimage town built around a lake, where devotees come to immerse themselves in the waters. It is also the location for the famous camel fair photograph by Ernst Haas.
Glare (Jodhpur)
This image of a man reclining on his street side doorstep in Old Jodhpur was a "grab" shot taken without permission. It was only when I noticed his expression of displeasure that I saw his disability. His glare was a well deserved rebuke of my inconsiderate action.
Peace pipe (Gwalior)
I noticed one shop in Jaiselmer with signage saying "government ganja store".
This smoker appeared to be unconcerned about being photographed partaking of the weed.
Shave 2
Another image that relied on this shop having an open front (closed at night with a steel roller shutter) on the street edge.
I saw more shaving than hair cutting in barber shops.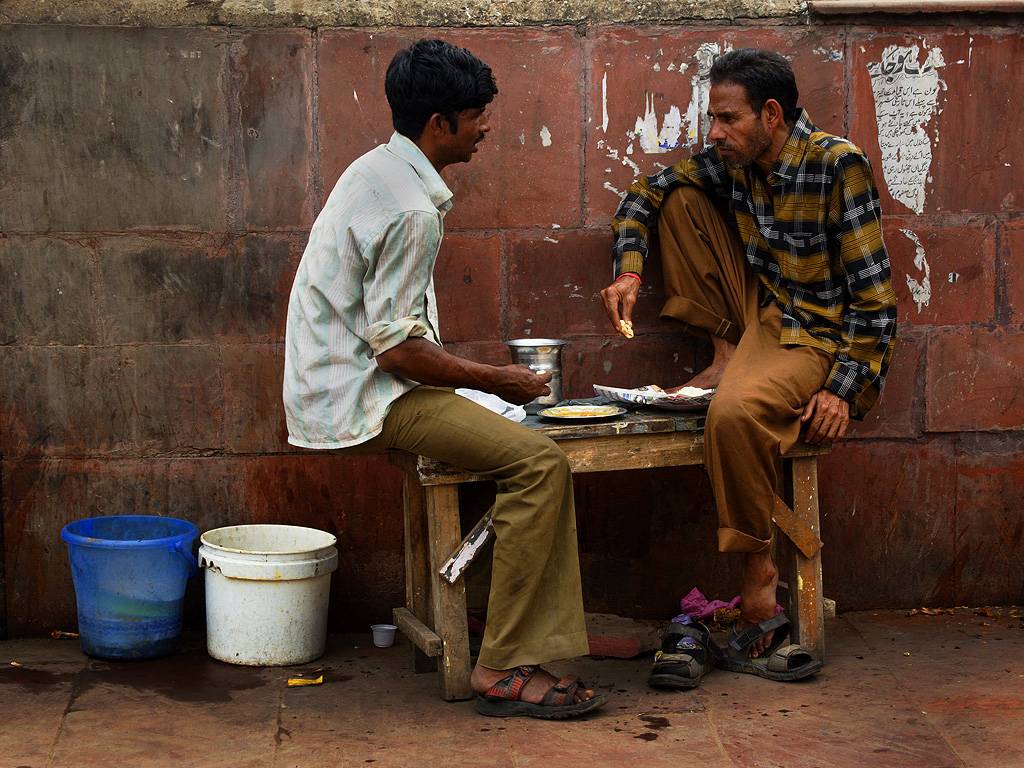 Business lunch (Old Delhi)
 Market traders taking a break.
High (Lohargal)
The glazed stare was the only response I received to my mimed request for a picture. One can only speculate about his thoughts.
News 3 (Omkareshwar)
Seems that newspaper readers make easy photographic targets, being less aware of what is happening around them. This fellow is on a high bridge across a river bisecting the town, and trafficked by vehicles, people and animals.
Wash (Orcha)
The village pump is both a community meeting place and a public bathroom. Modesty is a cultural prescript and in public the women bathe fully clothed in their saris.
Loner (Mathura)
Matura is a riverside holy pilgrimage town not far from Delhi.
On this damp day at the end of monsoon rains, we could not get near to the temples along the river bank due to high water levels. The orange and yellow robed holy man had the same problem, but was a colourful subject against the blue wall. He didn't seem interested in the photographer.
Pushkar pilgrims (Pushkar)
We complain about potholes in our streets. I noticed that this large puddle was reflecting the colourful dress of the pilgrims passing by, and waited for the right moment.
Tank (Lohargal)
By good fortune we happened upon a season of pilgrimage to this remote temple complex and tank out in the countryside . This appears to be both a spiritual and social event. Note that most of the women bathe fully clothed. The men use a separate, roped off area of the same tank. The water comes from a flowing stream and is replaced continuously (but this is not the case at all tanks).
I tried to keep my photographic activity as discrete as possible, and no one objected to our presence as the only foreigners around.
Topless
Photographed at another temple complex, the women dry their saris after a ritual cleansing in the tank. In this case the men used a separate tank.
Heena moustache (Jaipur)
This middle aged concierge on the sidewalk outside a Jaipuri jewellery store was a co-operative model, despite the passing crowd, and his having to neglect his doorman duty. I had to reward him for this memorable image.
Festival 2   (Chomu_near Samode and Jaipur)
Religious, traditional and community festivals are a regular feature of Indian life, and can provide exciting, colourful images. You may get lucky even if your itinerary does not include these activities. Dates for major festivals are available from India tourism organisations.
Alley (Khajuraho)
Khajuraho town is a world tourist destination, famous for its group of millennium old temples each of which is heavily embelished outside with stone carvings depicting aspects of Indian life of the period. Gods and goddesses, warriors and musicians, real and mythological animals abound, and the repeated theme shown in greater detail than anything else is women and sex, every possibility of the Kamasutra.
The simple image shown here reflects the reality of local village life.
Monopod (Varanasi)
This one legged man with an improvised crutch sits on the stepped ghats of the holy Ganges river at Varanasi. It is the aim of many pious Hindus to visit this holy city and, if possible, die there.
Sikh trucker
I don't remember the location of this truck stop where our driver pulled off for lunch. I do remember it being a seedy establishment with a rough clientele, and a proprietor who marched around with a curved dagger in his belt.
I was careless about our tea order, and we received a sweet, milky, boiled brew served in a glass. From our table we could see the glassware being washed in "water" the colour of that tea. The safer order would have been black tea, with milk and hot water separate.
If you prefer chai you will probably get the sweet boiled variety with the addition of a "curry" masala (spice).
In the parking lot I spotted this Handsome trucker and managed to capture a portrait of him looking down at me from the open window of his truck cab.
Bundi sleeper 2 (Bundi)
Permission was not requested for this image of a cycle rickshaw driver asleep in a roadside shelter.
THANK YOU John for your amazing images and for sharing your amazing experiences with us.